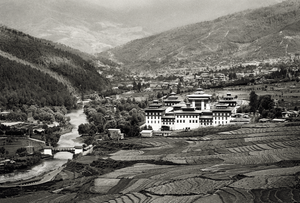 I scramble up the road between the Wang River and the cows grazing along fairways of Thimphu's nine-hole golf course, hoping to reach the covered bridge near the dzong before the rain…
...I rush by an old woman with a basket of vegetables on her back, then a man leading a horse followed by a mangy dog. Just as the downpour begins I see my friend Ugyen Wangchuk whom everyone calls "Wangchu."
"Hey, Wangchu! Kuzuzangpo!"
"Ku'zangpo John! What's happening?" Wangchu, who studied English for a year in Hawaii, grabs my tripod as we run under the cover of the bridge.
A slim, good-looking young man in a dark gho sewn from fashionable Bangkok cloth, Wangchu has an affable charm and bright smile that makes him instantly likable. A monk when he arrived in Hawaii, he left the monastery soon after returning to Bhutan, became a businessman, got married and learned the art of borrowing from Peter to pay Paul. One of the first phrases he learned in English, one he instantly understood, was "Go with the flow." But his favorite saying is "No mind. No matter."
When asked what he does for a living, Wangchu answers, "Whatever comes my way, just like everybody else!"
Like most Bhutanese in town, Wangchu has an extended family back in his village and a subsistence farm that he can fall back on if business goes bad. Many Bhutanese families have two homes —one at low elevation for the winter season and another higher up for summer crops and pasture.
Young Bhutanese are attracted to town by the lure of cash, the excitement of urban living and the status of "making it" in Thimphu, with government jobs holding the highest prestige. But the job seekers have been drawn by the hope of jobs; not the demand for workers. Unemployment in Thimphu rises, while young people hang out in billiard halls and street corners and good farmland lies fallow in many villages for lack of labor.
From BHUTAN: Hidden Lands of Happiness, by John Wehrheim (Serindia 2011)