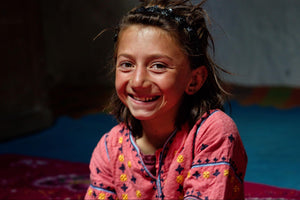 I made this picture of Fariha, a Wakhi girl in Chipursan, Hunza, northern Pakistan. This fertile high elevation valley region is home to the Wakhi people – prosperous, well educated, and self-sufficient farmers of grain, potatoes, vegetables, meat and dairy, with a profitable export market for disease-free seed potatoes–and some of the most friendly and hospitable people in the world. 
I photographed Fariha below the roof hole of her home's central room – an enclosure built without windows around a hearth to conserve heat. Traditional Wakhi houses are single storied, made of mud and stones. The central room is designed with raised platforms at different heights, each for a different purpose or status, with five symbolic pillars and a diamond-shaped hole in the roof for smoke and light. The floor is mud, covered with carpets or animal skins and the door, roof-hole, pillars, and sometimes the platforms are made of wood.
Because the Wakhi are Ismaili Muslims – a branch of Shia Islam whose Imam is His Highness the Aga Khan – I was allowed to photograph their women. Among the Ismailis, women are free, educated, independent and unveiled. Ismailis do not practice gender segregation and the women are encouraged to participate in all social and political affairs.