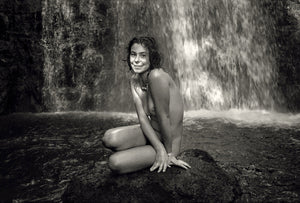 There was a strong Town & Country relationship between Taylor Camp and the valleys of Na Pali.
Before the advent of the Fed's "Green Harvest", Kalalau was a "pakalolo" plantation for the Campers with ancient lo'i cleared, cultivated, row cropped, and drip irrigated. Kalalau also offered a respite for those Campers stressed by the close communal nature of village life and the ravages of drug and alcohol addiction.  Kalalau was where Taylor Campers went to rehab and "get away from it all."
We met this woman at a Kalalau sweat lodge gathering and the next morning took her on a hike to the 2000-foot back wall of Waimakemake Valley, a place made famous by Francis Frazier's 2001 translation from Hawaiian 'olelo of The True Story of Kaluaiko'olau,  As Told By His Wife Pi'ilani, first published in 1906 one of the greatest love stories ever told, that goes right to the symbolic heart of the Kingdom's tragic treatment of leprosy sufferers and the ruthless overthrow of Queen Liliuokalani.