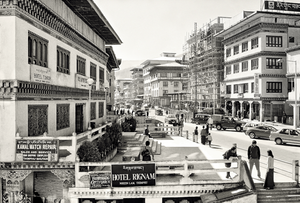 The morning sun rises above the mountains as I drift through town, looking at old and new signs. Through an open door, I see the blue glow of a flickering TV lighting the Potala Restaurant and Bar's interior. I pass by the Om Meat Shop, Hasty Tasty, B Mobile and the Down Town Bar; the Boomerang, U.S. Enterprises, Bits & Bytes and Space 34; Fast Food, Olympic Sports, Video Games, and the old Swiss Bakery. A boy in a jersey with Michael Jordan's number "23" leaps in his Indian gym shoes and taps the rim of the Buzz Club sign.
Up ahead, two older boys practice their wrestling moves under a tree—their ghos hiked above their knees, sleeves tied around their waists. One wears a "Stone Cold Steve Austin" tee-shirt. The other has an image of "The Rock"—heroes of the World Wrestling Federation, America's low-camp theater of bravado, sex, and gore.
A car drives by with a tv ruined my life sticker on the rear bumper.
From BHUTAN: Hidden Lands of Happiness, by John Wehrheim (Serindia 2011)