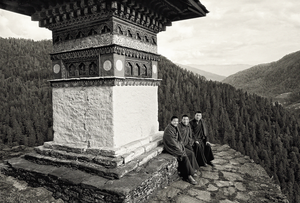 Many Bhutanese believe Bhutan to be a "Hidden Land" - a land of blessings and treasures where distracting thoughts can be abandoned and enlightenment gained.
Years ago, I made a trek to help my friend and teacher Lopen Karma Geley build a meditation hut among the hermitages high above Tango Monastery. I wasn't sure what to expect; perhaps old men in caves silently sitting in lotus.
I found a community of brothers living in small, scattered cottages and caves, hidden near the tree line. Each hermitage overlooked mountains, forests and sky. Wild animals were abundant and birdsong filled the air. The hermits were the hardest working, healthiest and most intelligent men I had met in Bhutan. They retreated in prayer, yoga and meditation for periods of three years and three phases of the moon. But if another monk needed a hand, they would show up and work from sunrise to sunset, sometimes joking and laughing but mostly focused on the job, doing the work like a silent dance.
While building Lopen Karma's hermitage, I met several of these meditators and learned that Bhutanese hermits sometimes "play hooky." They grow their hair long, like the ancient yogis of the past, and leave their retreats for months, taking solitary walks to the sacred sites in Bhutan and Tibet. The abbot would never know of their absence, as an unanswered knock on a hermitage door was never questioned. And the Chinese soldiers in Tibet would rarely bother a long-haired wandering ascetic disguised as a high-country herder.
After finishing Lopen Karma's hermitage, I was taking my leave for a trek to Lunana, when Lopen told me, "Those who take long walks in high, empty places realize their spiritual goals."
From BHUTAN: Hidden Lands of Happiness, by John Wehrheim (Serindia 2011)