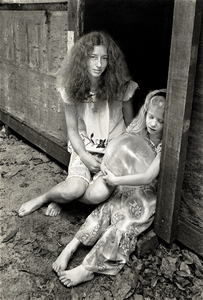 Sharon was a good mom.  Karma was a shy, sweet little girl yet very curious and inquisitive in her quiet way.  Sharon kept their house in good order and Karma was always clean, well dressed and well fed—not always the case for all the Taylor Camp kids.  I don't recall seeing Karma in anything but long flowing dresses, usually in the very modest Hawaiian mumu style.
Seeing that Sharon was a bit self-conscious, and hoping to capture a moment of calm insight, I purposely fooled around with my tripod and camera to give them some time to relax into the moment.  Karma let me know how bored she was by pretending to fall asleep. I decided that was my moment of insight.
This photo was made in the back door of the camp's "Free Store" food coop.