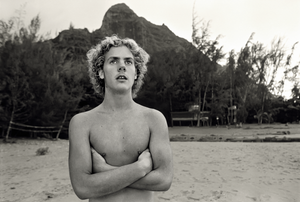 Ron was a teenage runaway from the West Coast, a sweet young guy who survived a violent, traumatic experience on the mainland, ran off to Kauai and was adopted by a group of Taylor Camp women. His time in camp was a refuge, a healing, an opportunity to access his adventurous heart with friends who treated him as a beloved younger brother.
A playful, tender soul with a Peter Pan "never grow up" spirit and a teenager's appetite, Ron got the name "Radar" because he always "homed in" and appeared when food was served.  He got his wish to "never grow up" and died a very young man.
The Hawaiian name for Buddha Mountain is Makana — the gift.