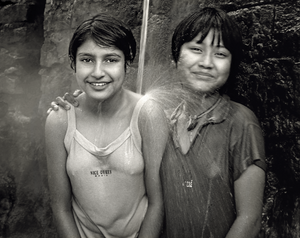 In the early 1990's, the conflict between Bhutan's military and armed rebels supported by the Gorkhaland insurgency in India, trapped most of the innocent southern citizens of Nepali origin between a Drukpa government suspecting them of treason...
...and Nepalese rebels accusing them of betraying their own people. Nepali immigrants who had settled in Bhutan before 1958 (referred to as Lhotshampas) had been granted full citizenship and in the 1980's, the government offered generous cash incentives for Lhotshampa-Drukpa cross-cultural marriage.
During the 1960's, thousands of Nepalese illegally migrated into southern Bhutan, attracted by its sparse population, abundant fertile land, vast forests, ample water, free education, and free healthcare—attractions unheard of anywhere else in South Asia.
During the 1988 census, a bungled attempt by the government to separate legal from illegal immigrants triggered the beginning of the southern rebellion, eventually leading to thousands of illegal immigrants, as well as Lhotshampa citizens, to flee Bhutan for refugee camps in Nepal.
A generation has passed since then. Most of Bhutan's nationalistic fervor and ethnic tension subsided with the beginning of democracy in 2008. Lhotshampa now enter government service in increasing numbers and make up about twenty-five percent of Bhutan's population. Most Lhotshampa have fully integrated into northern Bhutan's Drukpa culture—especially the urban youth who were yet to be born during those times of trouble. They all speak English with clipped British-India accents, enhanced by Dzongkha, Nepali and Hindi words, and phrases, and are far more focused on their smartphones, hipster fashion, pop music, movies, parties, and landing a job after graduation.