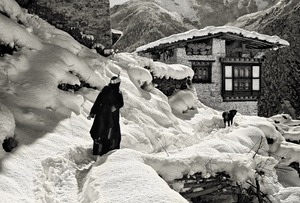 The snowfall thickens as we break trail down to Neylu through knee-deep powder. All around the villagers celebrate the harvest festival of Awlley. For three days, the Layap throw open-house parties, rotating from village to village.
In every house, the women turn the new barley crop into chang and the sound of dancing fills the valley as revelers go singing from house to house and each family displays their wealth, manners and women.
The men drink and chase the girls, but most of the women are sober—engaged in the serious business of looking for husbands and arranging marriages. The Laya community is in the north, along the Tibetan border, and a family's wealth passes through the eldest brother—not the daughters as in most matrilineal communities in central and western Bhutan. A woman leaves home to live with her husband's family, usually marrying all his brothers. Throughout the year, the men of Laya roam freely from house to house but the Laya zam rarely visit families with whom they have no relatives.
During Awlley unmarried girls go boldly from house to house singing and dancing while some married women follow, hiding in blankets, peeking out to judge the families' hospitality while seeking a match for their sons. If a hidden woman likes what she sees, she will subtly reveal herself and if the women of the household recognize her and consider her sons a good match, they will pull her blankets away and offer her tea and talk of marriage. For most of the young people, Awlley is a chance to strike up love matches and arrange trysts for later in the night. For everyone in Laya, Awlley is a chance to make connections and have some fun.
From BHUTAN: Hidden Lands of Happiness, by John Wehrheim (Serindia 2011)