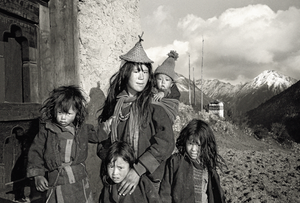 A caterpillar with a thin mushroom growing between its eyes, the strange and rare yartsa goenbub, has become the main source of cash for most Laya people.
Traditional oriental herbalists believe yartsa goenbub (Ophiocordyceps sinensis) prolongs life, acting as a powerful aphrodisiac and general panacea.
With China's new prosperity, the demand and price for yartsa goenbub have skyrocketed. A recent study published in the Journal of the Tibet Agricultural College estimated that over twenty-five thousand square kilometers of Tibetan grassland watershed turns to desert each year in the wake of the yartsa goenbub harvest—a major cause (along with deforestation and overgrazing) of the flash floods and droughts downstream. And "downstream" of the Tibetan grasslands means countries with almost half of the world's population.
The Chinese use farm implements and tractors to turn the soil and harvest yartsa goenbub; Bhutanese use their hands, as well as the sharp eyes and tiny fingers of their children, and do it without destroying their pastures. Some Layap are getting rich, but they don't make money on just the yartsa goenbub but on the neighboring villages as well. Laya has access to the markets in Tibet and Bhutan but Lunana is far more isolated. To the south, the trail has such steep and dangerous footing that no yak or horse can cross it. To the north, impossibly vertical mountains of snow and ice create a trackless wasteland. The long difficult journey east brings the Lunap to Bumthang, inhabited by more clever trans-Himalayan pastoralists, nomads and traders, who, like the Layap, make easy prey of the gullible Lunap. So the most natural route of trade for the Lunap lies to the west, through Laya, with the sophisticated Layap "middle men", who bring yak trains of trade goods to Lunana to barter for yartsa goenbub and make money going both ways.
From BHUTAN: Hidden Lands of Happiness, by John Wehrheim (Serindia 2011)