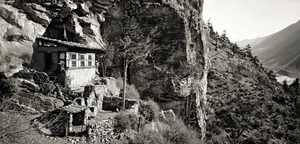 The wildest and most remote district in Bhutan, Lunana is no Shangri-La, but a cold, hard frontier where only the strongest survive. The men spend much of the year away from home, trading, driving the yak, traveling for pilgrimage or warmer weather.
The Lunana women, taller and bigger boned, are not like their Laya sisters. Most Laya women have sing-song voices and giggle like girls, flipping their long hair and adjusting their hats and jewelry in a coquettish little dance. With shorter hair and clothes less stylized and traditional, the Lunana zam move with the powerful grace of big cats and talk with voices deep and direct. They don't care if you're the governor or a blacksmith—they're rude and tell you what they think. And they can carry a yak's load across their high mountain passes.
The recent census shows that in Laya, where polyandry is more common, the men outnumber the women by 8 percent, while in Lunana there are 7 percent more women. Is this caused by the dangerous lives of the Lunana men, the toughness of the big Lunana zam, or the adaptation of nature and custom?
When Shabdrung came to Laya he pointed toward Lunana and asked, 'What is the name of the next village in that direction?' And the people of Laya told him that the next village was called 'Lung Nana' (Black Custom). Shabdrung then said that if it were a village of black custom he would not go there and continued south into Bhutan.
The monasteries recently started sending monks to Lunana to teach Buddhism, birth control, and health. The monks are concerned with animal sacrifices practiced by the Bonpos, believing that these rituals are the source of disease and bad karma. One of the monks told a funny story of the Lunana women whining about the condoms the monks were passing out for free. "The women complained that sex with condoms didn't feel as good! In other villages, it had always been the men who told us that!"
From BHUTAN: Hidden Lands of Happiness, by John Wehrheim (Serindia 2011)