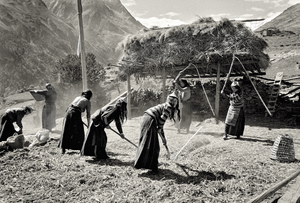 "My father died when I was very young," explained our horseman, Dasho Bidi. "I was an only child, raised by my mother. We were poor and had to move in with my father's brother and his wife...
"...I had no time for school. They had one child, three years older and in the monastery. After my uncle died and I was doing all the work, my cousin dropped out of the monastery. He came home and sat around the house all day doing nothing.
"My aunt had inherited a farm with fields of buckwheat, barley, and potatoes. I worked the farm and took care of the animals. For years this was my life. When I was thirty my mother died and I decided to leave my aunt and cousin.
"I drifted, working as a hired hand, playing archery and having fun—gambling, drinking and visiting the village girls. This was the first time I slept with a woman and enjoyed myself as a man.
"I was happy but I was still poor. I had nothing. I was thirty-five—my life was going nowhere, so I decided to go back and work for my aunt. She and my cousin were glad to see me and treated me better. I was bringing the cows home one evening when I heard a whistle from down below. I whistled back. A whistle answered mine. I began walking toward the whistle and answering. There, in a field below my aunt's house, I met my wife Sangay.
"Sangay was a smart woman. We opened a shop where the road from Punakha ended at Tashithang. She knew what to stock and how to sell. I made the buying trips to the Indian warehouses in Phuntsholing and Jaigon. In a few years, our business was well established. We saved money and built a new shop in Gasa, where business was even better. We bought a string of horses. I hauled our goods from the end of the road and we made money on the hauling.
"We had no children but still, we enjoyed a good life as shopkeepers. I was thirty-nine when Sangay got sick. I nursed her for months and spent all our money on ceremonies to drive out the evil spirits that weakened her day by day. But she died. I was deeply saddened, distraught and wanted to give up on life so I decided to sell the shop and go back to my old ways of drifting.
"But Sangay's family would not hear of this. Her mother said it would be a shame for me to give up a lucrative business and live the rest of my life alone. She arranged my marriage with Karma, Sangay's eighteen-year-old niece.
"Karma was not the shopkeeper that her aunt Sangay had been. I would come back from buying trips and find that the shop had no money. Karma would sell on credit to villagers who could not pay. She was easily cheated and gave things away to her friends.
"Unlike Sangay, Karma was fertile. Soon I was a father and children started coming one after the other. I sold the shop before we went bankrupt and went back to transporting goods with horses."
Dasho finishes his story, exhales a cloud of smoke from his bidi and whacks the lead horse on the rump with a stick.
"I've got five children now—all girls," adds Bidi. "I'm away from home most of the time and I'm not sure they're all mine. I'm fifty-nine years old. Do you think my seed is still good?"
From BHUTAN: Hidden Lands of Happiness, by John Wehrheim (Serindia 2011)