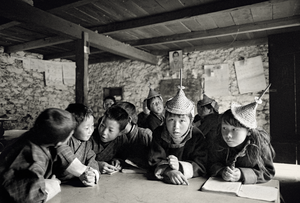 The end of theocracy and the establishment of monarchy in 1907 began a gradual shift from monastic to secular education.
The Royal family and nobility started the trend by sending their sons and daughters to private missionary schools in Kalimpong and Darjeeling. Then the Royal Government followed during the reign of the 3rd King, providing scholarships for particularly talented students to train as teachers, administrators, engineers, forest officers, and doctors.
Bhutan's first public schools, founded in the 1950's, were staffed with Indians who taught in Hindi. In 1962 the Royal Government learned that a Jesuit educator, Father William Mackey, was about to be expelled from Bengal for sympathizing with his Nepali students' peaceful protest of their treatment by the Government of India. Because Bhutan's schools were staffed with Hindi speaking Indian teachers, the 3rd King was concerned about the potential erosion of culture and national identity. He saw this as a great opportunity and invited the Jesuit missionary, who was fluent in Nepali and familiar with Dzongkha, to help develop a uniquely Bhutanese public education system.
Father Mackay was Principal of St. Robert's High School in Darjeeling where over eighty-percent of the borders were from Bhutan. He had great admiration for Bhutanese character and courage. Before the first road entered Bhutan, his students trekked for over a week on backcountry trails, across snow passes and through forests with bears and tigers, to reach St. Robert's. Father Mackey was also a coach and his Bhutanese students were formidable athletes, fine sportsmen and often won regional championships in soccer and gymnastics. He immediately accepted the King's invitation.
Now every village has a primary school, the larger towns have high schools (with boarding for students from distant villages) and there are nine accredited Colleges spread across the country. Classes are taught in English and Dzongkha.
Bhutan provides eleven years of free schooling: one year of pre-primary school, six years of primary, two years of junior high and two years of high school. Students undergo an examination to move from primary to junior high, and another to graduate from junior high to high school. The government provides scholarships to students who meet the requirements for higher education and professional studies. Many Bhutanese study abroad in English speaking countries. The vast majority of these Bhutanese students return to their homeland.