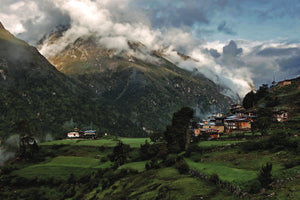 I camp in the upper story shrine room of the Pazhi lhakhang. The air is heavy with incense and the hall is filled with butter lamps, prayer wheels and stacks of sacred wood-block texts. The ornately carved and painted altar holds gilded vessels and bronze statues. Images of the Buddha, Guru rinpoche, Shabdrung and bodhisattvas surround me, many in union with divine consorts – skywalking dakinis who protect and serve the Dharma.

As the sun sets behind the crown of snow peaks, Tshering comes to light the butter lamps and tells me of tonight's dance in the temple. I hear the sound of women singing as they approach. The solemn hall changes into a party mood when the singers come through the door talking and laughing. As they form a circle the soft lamp-light casts an ethereal glow on their faces. A crowd of villagers follows them in and surrounds the dancers. The rough black wool of the women's robes accents their gleaming silver, turquoise and coral jewelry. They wear bright silk blouses and small pagoda-shaped hats of woven bamboo, the
Pema Chorten
, lotus temple of the Dharma and tantric symbol of their goddess nature.