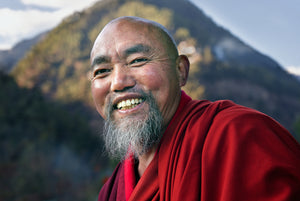 When I first met Karchung 20 years ago, he was "Rithroep" Karchung – a hermit wandering in the forests and mountains. He was open, friendly, and fascinating, so I tagged along. Though mostly skin and bones, Karchung bound through the forest with the strength of a buck, and I struggled to keep up. He knew every edible and medicinal plant and root, where to find "min chhu" (medicine water), and could see and feel nature spirits and earth energies that I could not.
He lived in forest huts and south-facing caves above the tree line. "Rithroeps" practice the six Yogas of Naropa: Inner Heat; Illusory Body; Clear Light; Dream Yoga; "Phowa" (Collection if one dies on the path); and "Bardo" (The intermediate state.)
Karchung carried all he had on a bentwood pack frame he made himself. I tried it on. It was torture.
"Here, try mine" I lifted my Kelty to his shoulders.
"It's good, very good!"
"I'll bring you one when I come back this spring."
Karchung gave me his family's telephone number in Thimphu.
That spring, I called and talked to a man who said the family hadn't heard from Karchung in some time, a long time, had no idea where he was, and didn't think he'd have any use for a pack.
I never forgot Karchung.
20-years later, Lopen Gembo gave me a list of the Masters we would interview for our book and film project "Living Masters of Bhutan," and I saw Karchung's name:
"Karchung!" I said, surprised and delighted. "I know this guy. I thought he was dead."
"Dead?" replied Gembo, "Karchung's our greatest Sanskrit scholar at Tango University."
After 23 years of Mahamudra practice (Co-emergence Yoga) in the forests and mountains of Bhutan, Karchung realized that the Sanskrit words in their mantras and texts, though interpreted with many subtle and various meanings, were not clearly defined. The monks didn't really know exactly what they were chanting and reciting. So at age forty-one, this wandering hermit went to India to study Sanskrit. Six years later, in 2017, he returned to Bhutan. Karchung has now published 10 books, including his Masterworks, Classical Tibetan to Sanskrit, and Sanskrit to Classical Tibetan dictionaries totaling over 1300 pages. Some of his other titles are : "The Golden Key"; "The Moonlight"; "Mantra Pronunciation," and more.
Karchung was Gembo's friend. They were classmates. Gembo called. We hopped into his car and headed to Tango.
"Karchung! So great to see you, my friend! I thought you were dead!"
"Once, I thought I might be dead too! I was alone, quiet, calm. No sounds. Not a chirping bird. Not a breeze. Was I alive? I dipped my feet in water to see if I left footprints. So here I am, still alive!"