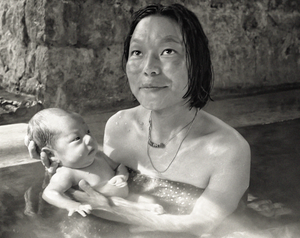 Bhutanese make frequent pilgrimages to remote and often hidden hot springs. Called tsha chu and found throughout Bhutan, they are places of healing, community, rest and devotion.
The chanting and prayer begin at dawn with the purifying sang ritual of burning juniper. In the evenings, around the cooking fires, beer, and ara flow, new friends are made and stories told. The songs and dances go late into the night while young men and women slip off to meet in the dark steaming baths. And day or night the healing sounds of laughter lighten the air.
The Tibetans call Bhutan Lho Men Jong, the "southern medicine land," and its tsha chu have been known for millennia to cure a range of ailments from skin afflictions to internal diseases. But the water of each tsha chu is different, with widely varying temperature and mineral content; and each is credited with its own special healing magic.
Like the Gasa Hot Springs, many of these tsha chu are located in steep jungle valleys or high mountain forests surrounded by rare medicinal plants, mushrooms and a strange variety of insect that the local people claim will heal everything from impotence to cancer.
Often close to mountain streams, these therapeutic baths are sometimes found near men chu, cold, mineral-rich springs, bubbling with tiny carbonates like fine champagne, and credited with magical curative powers. So valued are the sparkling men chu that it is common to see Bhutanese heading back home, pack animals laden with containers of these healing waters.
Bhutan's tsha chu are free and open to all. An egalitarian society without a tradition of caste, it is not unusual to find a district governor, a nun, a yak herder and a student just returned from a foreign university joking, laughing and enjoying a bath together. Even His Majesty the King has a cottage at Gasa tsha chu, a favorite retreat of the Royal Family and their guests.
From BHUTAN: Hidden Lands of Happiness, by John Wehrheim (Serindia 2011)