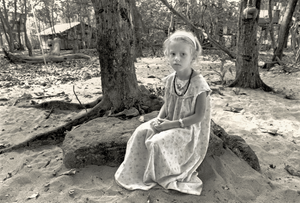 I saw the light, the scene, Karma, the rock, the "Free Store" coop in the background and asked Karma to sit on the rock. The boys jumped into the frame, making faces and noises—sticking out their tongues. I drove the boys off, chasing them onto the beach and telling them to go sit near the water or I wouldn't photograph them again.  That worked
When I returned Karma was sitting quietly on her rock, hands folded in her lap, just as I had left her.
I love the woman in the white flowing skirt echoing Karma in the background.