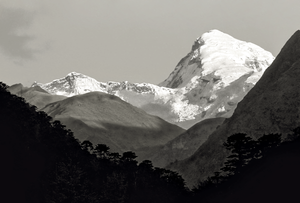 Seventy-two percent of Bhutan is under pristine forest cover. Our constitution decrees that a minimum of sixty percent of Bhutan's total land shall remain under forest cover for all time...
...That's why we are one of the few remaining global biodiversity hotspots in the world.
Our entire country generates 2.2 million tons of carbon dioxide, but our forests, they sequester more than three times that amount, so we are a net carbon sink for more than four million tons of carbon dioxide each year. Of the 200-odd countries in a world threatened with climate change, it looks like we are the only one that's carbon neutral.
We export most of the renewable hydro-electricity we generate from our fast-flowing rivers. The clean energy that we export offsets about six million tons of carbon dioxide. By 2020, we'll be exporting enough electricity to offset 17 million tons of carbon dioxide. And if we were to harness even half our hydropower potential, and that's exactly what we are working at, the clean, green energy that we export would offset something like 50 million tons of carbon dioxide a year. That is more CO2 than the entire city of New York generates in one year.
The world is getting warmer, and climate is affecting my country. Our glaciers are melting, causing flash floods and landslides, which in turn are causing disaster and widespread destruction in the valleys below. My country and my people have done nothing to contribute to global warming, but we are already bearing the brunt of its consequences.
We are providing free electricity to our rural farmers. The idea is that, with free electricity, they will no longer have to use firewood to cook their food. We are investing in sustainable transport and subsidizing the purchase of electric vehicles. Similarly, we are subsidizing the cost of LED lights, and our entire government is going paperless while planting trees throughout our country.
Our protected areas are our carbon sink. They are our lungs. Today, more than half our country is protected, as national parks, nature reserves and wildlife sanctuaries. But the beauty is that we've connected them all with one another through a network of biological corridors. Now, what this means is that our animals are free to roam throughout our country. Every year, we set aside resources to prevent poaching, hunting, mining and pollution in our parks, and resources to help communities who live in those parks manage their forests, adapt to climate change, and lead better lives while continuing to live in harmony with Mother Nature.
- Lyonpo Tshering Tobgay, Prime Minister of Bhutan