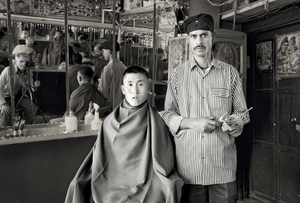 Walking down Norzin Lam in Thimphu, I see Tshering Dolkar, the woman born on the trail to Kailash standing in front of Haridar Takur's barber shop talking to a monk.
"Kuzuzangpo, Kuzuzangpo, come have tea la." She takes my hand and leads me across the street and into her shop. We go to the back of the store where Granny Lhanzom sits spinning her prayer wheel. I fold my hands, say "Kuzuzangpola" and bow to Granny, who doesn't see well through her thick glasses.
"How are you? When did you come to Bhutan la?" Tshering asks, seating me at a little table and pouring buttered tea.
Traditional kiras, magnificent, intricately patterned dresses handmade by master weavers, cover the walls of Tshering's shop. Bhutanese woman wear their kiras wrapped over bright blouses revealed under short stylized jackets. Tshering has many women working for her, weaving at home in their spare time. I ask her how long it takes one of her weavers to make a kira.
"If she has a good husband she can finish in six months and earn 60 ngultrum a day," answers Tshering; 60 ngultrum equals $1.50.
"What's a good husband, Tshering?"
"A good husband helps with the cooking so his wife can weave," she explains. "Some husbands are no good. They won't help. Their wives need nine months to weave a kira and can only make 45 ngultrum a day."
"And some husbands are very bad. Very stupid!" Tshering's lovely smile fades now as she continues. "They drink and beat their wives and their women only make 30 ngultrum a day. Stupid men not leaving their wives to work!"
From BHUTAN: Hidden Lands of Happiness, by John Wehrheim (Serindia 2011)