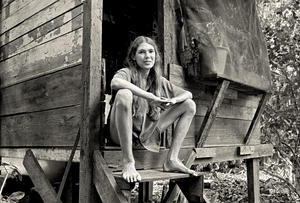 Gary Braids was the most gender ambiguous person I had ever met. He was so androgynous—tall with feminine grace and smooth delicate skin—that I wasn't sure if he was a man or a woman until he told me his name was Gary. Denise Thomson-Tangalin, his longtime friend and roommate, remembers once when, "Gary put on a dress and we went to a party.  Gary had hair down to his butt and was the hottest chick in the room!"
Taylor Camp had its share of gay and bi-sexual people. As a recovering Catholic from Notre Dame in the 70's, it seemed like a very gay place to me. But now we know that it probably didn't have any more gay or bi-sexual people than any other community; it was just that Taylor Camp had a very open, honest and accepting attitude toward sexuality—and besides, when everyone's living in houses with walls made of 6 mil clear plastic, you can't really hide in the closet.
Gary called Denise recently.  He's living in Western Australia, married and has two kids. His daughter is a successful fashion model — chip off the old block! — and Gary has taken up the bag pipes.