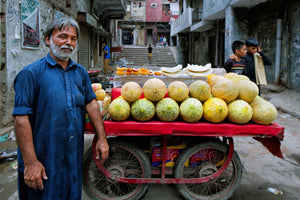 Located on the arid western end of the Himalayas where the meet the Karakorams and the Hindu Kush, Pakistan has the perfect high desert climate for melons and stone fruit.
Heera Mandi, also known as the "Diamond Quarter" is a neighborhood in Lahore, Pakistan, whose narrow streets and buildings date back to the 15th through 18th centuries.

Sometimes referred to as the Royal Neighborhood (Shahi Mohalla), Heera Mandi was originally the center of Lahore's tawaif (concubine) culture. The tawaif were highly sophisticated and wealthy entertainers catering to the nobility during the Mughal era. Like geisha in the Japanese tradition, tawaif were masters of etiquette and rigorously trained in music, dance, theater, and literature. Originating with the Hindu nobility, this tradition existed on the Indian subcontinent for over 2000 years. 
The puritanical and hypocritical regimes of both the British Raj and now the Islamic Republic of Pakistan drove the tawaif underground and to near extinction. Today shabby, littered and poorly maintained, Heera Mandi is still an area for entertainers, musicians, instrument shops, prostitutes and colorful characters – but only as a shadow of its former glory.