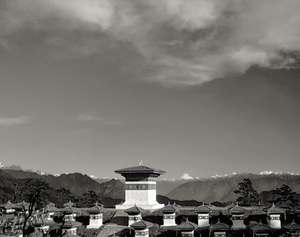 Thousands of prayer flags fill a forest of cypress, rhododendron, daphne, and magnolia with motion and color. Burning incense and juniper billow into the sky. One hundred and eight small stupas circle the main chorten, spiraling around the knoll.
Built in 2004 by the eldest queen mother, the Druk Wangyal Khang, Zhang Chortens honor soldiers killed in Bhutan's 2003 war against Indian insurgents.
Most nations would have called it a war against terror. The Bhutanese had flushed out Assamese and Bengali "Militants" from their camps in the jungles along Bhutan's southern border. For over a decade these well-financed battle-hardened rebels with high-tech weapons preyed upon Indian civilians, and sniped at the Indian Army, only to escape capture by slipping back to their strongholds—thirty camps just inside the Bhutanese border. Bhutan's forces had never seen battle and the Indian press referred to them as a "token army." This was the first war in the hundred-year history of the monarchy.
The King laid out the tactics and led from the front—taking the Militants by surprise. In three days, most of the camps had been captured and destroyed. In two weeks, the war ended with few deaths on either side.
Disregarding an international public relations coup that many world leaders would have sacrificed lives and fortunes to create, King Jigme remained silent and out of sight. There were no quotes or photos of the King, no interviews or footage from the front. The King refused to glorify war or seek benefit from the suffering of others. The editor of Bhutan's newspaper Keunsel wrote: "The Bhutanese will always regret that the problem eventually came to a military option. The gunfire heard in our forests, known in the past only for rich foliage and diverse wildlife, will linger in our minds for a long time.
"It might seem a little odd to ask that there should be no hard feelings at the end of it all, but it is characteristic of Bhutan and the Bhutanese people that our overriding emotions even now are regret and empathy. When we assure the people of Assam and West Bengal of our continued friendship, it includes the Militants. Oddly enough there has never been any animosity during the entire operation, only a feeling of regretful necessity.
"At the end of it all, the Bhutanese people will not celebrate victory but will express our sentiments in prayers and butter lamps."
The memorial was built without images of heroes or weapons—or even mention of the war. In Bhutan heroes are born from a lotus, ride flying tigers or live as mad, bawdy tramps. A cannibal demoness becomes a protecting spirit; a lecherous drunk leads a nun to enlightenment. But no mythic hero causes others to suffer. Every blood sacrifice is brought back to life. The Memorial is called "Great Victory," named in a country where a hero's greatest victories are over ignorance and delusion.
From BHUTAN: Hidden Lands of Happiness, by John Wehrheim (Serindia 2011)