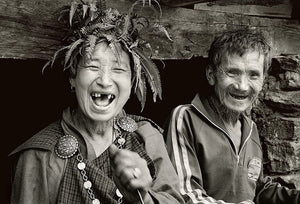 For special ceremonies and formal occasions, Bhutanese women wear traditional kiras, handmade, intricately patterned dresses of silk, wool, hemp, and cotton wrapped over bright silk blouses and often revealed under short, stylized jackets. I ask Dema how long it takes to weave a kira.
"If a woman has a good husband, she can finish in six months." answered Tshering. "if she sells the kira she will earn about 60 ngultrum a day." ($1.50)
"What's a good husband, Dema?" I ask.
"A good husband helps with the cooking so his wife can spin and weave," she explained. "Some husbands are no good. They won't help. Their wives need nine months to weave a kira and only earn 45 ngultrum a day."
"And some husbands are very bad. Very stupid!" Dema's gap tooth smile fades as she continues. "They drink and beat their wives and their women need a year to weave a kira and can only earn 30 ngultrum a day. Stupid men not leaving their wives to work!"