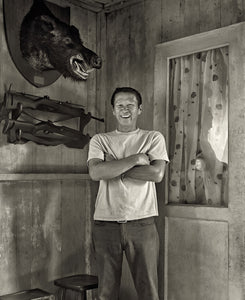 I moved to Kauai in '72, after teaching in Honolulu for three years and making frequent trips to the Garden Island. I lived in Haena, then Wanini, and then settled in Kalihiwai Valley in a cold water shack, no electricity, an outhouse. I cooked over a stone fire pit in the yard or on a Coleman stove set up on a picnic bench under a tarp. My closest neighbor was Delbert Goo—an excellent cook! So just about every evening, I just happened to stop by around dinner time, and the Goo family was okay with that. They took pity on me, a skinny, hungry haole, and I helped around their farm.
Though he was a truck farmer, Delbert's main cash crop was pakalolo (marijuana). His next most valuable commodity was fighting chickens, and he was a successful gambler. Delbert's father came to Kauai from Southern China in the late 19th Century. He built one of Kauai's most extensive rice plantations with its own mill—converting ancient Hawaiian taro terraces for rice cultivation.
In those days, growing and milling rice took lots of labor. Delbert's dad imported Chinese imigrants (coolies) to work his plantation, giving them room and board in a bunkhouse above the mill. Old Man Goo had about 30 coolies—all opium addicts. The deal was room, board, and opium. To secure his supply chain, the Old Man sent young Delbert to Iolani School, one of Honolulu's most exclusive prep schools. (Even back then, arch-rival of Barry Obama's Punahou.) As a regular buyer, little Delbert became familiar with the Chinatown underworld. Every month he would take the inter-island steamer back to Kauai, wearing his Iolani uniform, carrying Papa's dope in his tin lunchbox. When Delbert returned from the war in Korea, Papa was dead. The farm had been converted from rice to truck crops, and Delbert had a ready market in Chinatown for pot and fighting chickens.
Delbert and I became partners in an agricultural subdivision covering much of his father's old rice farm. When JoAnn and I first met, he pulled me aside and said, "You better marry that wahini, Japanee the best in bed…" I figured Delbert should know. His Chinatown friends ran all the whore houses in Honolulu. Besides, he was married to Geri, a "Japanee." 
I built our family home—a little country house—down the road from Delbert's. However, we still had our place in Lihue, where JoAnn worked 18 to 20 hour days as Kauai's mayor. My daughter Maile and I preferred Kalihiwai. She enrolled in Kilauea School, and we continued the tradition of going to Uncle Delbert's for dinner. I'd hang on his lanai with the boys drinking Heineken and smoking joints while, in the house, Aunty Geri and her daughters spoiled Maile with soda and candy.
Delbert was the kindest, most generous person I've ever met—and more than any other, had a profound effect on my life. Neighbors, Honolulu hitmen, haole hippies, and surf dogs, or the Bhutanese monks who lived with us in the valley, everyone was offered a beer, a joint, a meal, a "come inside" at Delbert's house.  Delbert's farm was a refuge, puuhonua.  Guys who might come to blows if they met anywhere else would share joints at Delbert's--bad boys on good behavior. They knew Delbert had "guests."
Occasionally, after a gangland incident hit the front pages of the Honolulu papers, Delbert would have a guest from the old neighborhood. There was one guest that I will never forget. A pure Hawaiian gentleman, well over six-feet and 200 pounds, sleek and sinewy, shaved head, soft-spoken, zen-like, Delbert's guest didn't smile or frown. He was a quiet man with a Royal bearing—a natural nobility. Only his eyes hinted at his deadly profession.
The guest would sometimes appear before the headlines and stay for several weeks, renting a car, leaving the valley at 4:00 am every other morning, and drive to Ke'e at the end of the road. He'd run to Kalalau and back, 22-miles of treacherous mountain terrain, rated as one of the most difficult and dangerous trails in the world. An archeological wonderland of ancient Hawaiian culture. Past Hanakapiai, the route opens a metaphysical door. It takes one time traveling back through the ruins of pre-contact civilization. The guest told me that the run was good conditioning, but the teachings of the ancient stone walls, rock terraces, and luakini temples were his training's goal—his spiritual practice.
Just after the incident would appear in the Honolulu papers, this refined, well-read, Hawaiian gentleman would suddenly return. No more round trips to Kalalau. Delbert's guest would relax with his girlfriend, a haole woman almost his size, work on his medicinal plant garden, fast, and massage his friends. He never charged, had a pure healing spirit, and was a master of traditional Hawaiian medicine. He was a Kahuna La'au Lapa'au.
He also practiced Kapu Kuialua—the Hawaiian martial art of bone-breaking, pressure point manipulation, and joint dislocation. This ancient practice inflicted the maximum amount of punishment and pain while sparing the life of the vanquished to be sacrificed to the gods on the temple altar. Delbert's guest would massage friends for three or four hours, never charging, never watching the time, working until you were "done." The depth of pleasure, out-of-body relaxation, and spiritual realignment the guest gave his friends came from his ability to turn the brutal arts of death into the healing arts of life. Ying and Yang.
One weekend JoAnn joined us in the valley. We walked over to Uncle Delbert's in the late afternoon. The boys were all on the lanai, green bottles in hand—the women in the house. As we walked up the long stairway, JoAnn said, "Oh wow! Smells like Uncle Delbert's burning incense." Eight-year-old Maile corrected her, "No, Mom, that's Uncle Delbert's pakalolo."