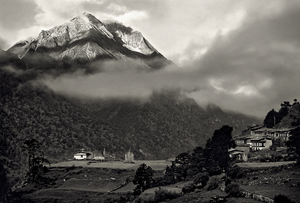 I camp in the upper story shrine room of the Pazhi lhakhang, the air heavy with incense and the hall filled with prayer wheels and stacks of sacred wood-block texts.
Painted with every color, the ornately carved altar holds gilded vessels and bronze statues. Images of the Buddha, Guru Rinpoche, Shabdrung and bodhisattvas surround me, many in union with divine consorts—skywalking dakinis who protect and serve the dharma.
As the sun sets behind the snow peaks, Chimi Tshering, the Pazhi headman, comes to light the butter lamps and tells me there's a dance in the temple tonight. I hear the sound of women singing as they approach. The solemn hall changes into a party mood when the singers come through the door talking and laughing. As they form a circle the soft lamp-light casts an ethereal beauty on their faces. A crowd of villagers follows them in and surrounds the dancers. The rough black wool of the women's robes accents their gleaming silver, turquoise and coral jewelry. They wear bright silk blouses and small pagoda-shaped hats of woven bamboo, the Pema Chorten, lotus temple of the dharma and tantric symbol of their goddess nature.
After the dance, the villagers join us for a party in the courtyard below, where Tse Tse has a bon fire going. Phub sets out several jugs of ara and a pail of sinchang on the wide sill of the cookhouse window while Dhanman brews butter tea. Another, less formal, circle dance begins around the fire and I ask Wangchu to translate the songs.
As the men and women clap, stomp and spin around the fire they sing songs of love, nature and the changing world.
"In this garden of Lotus Flowers, you're the only girl I love . . ."
"In Laya I met my dearest one but she turned her face and went away . . ."
"Let's go see the beauty of Bhutan, my dear friends, then the landscape of Tibet . . ."
"Parents of dreamland never divorce or we your children will be left suffering . . ."
"The people these days act in strange ways, smoking cigarettes and drinking baijiu (Chinese spirits)
From BHUTAN: Hidden Lands of Happiness, by John Wehrheim (Serindia 2011)