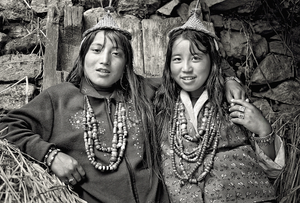 "Ask about the Laya zam hats," I ask Wangchu, who sits across the fire with his friend Choda.
"Pema Chorten means lotus temple or stupa," says Choda, a man in his early twenties with an Elvis haircut slicked with the local mustard oil, a trendy black Chinese parka and a devilish grin.
"In the old days, these hats were given to Laya women by their boyfriends or husbands," he adds. "But now we don't know how to make them. There's just one old man left who knows. He makes them all. It's a good business. All the girls wear Pema Chortens nowadays—even if they don't have a husband or boyfriend. They just buy one."
"You can see eight-year-olds running around with Pema Chortens," continues Choda. "They think Pema Chortens make them look beautiful. All Laya girls, no matter how old they are, want to look beautiful."
The younger Laya zam giggle, flipping their long hair and adjusting their hats and jewelry.
"We're not beautiful to please you, Choda," says Kinley, a woman a few years older than Choda, who nurses her baby in the firelight. Her smile is so big and bright it almost seems as if she has too many teeth. "Guru Rinpoche sent the most beautiful women from Tibet dressed as lotus stupas to please the gods of Druk Yul."
"I'm not sure that Laya zam are the most beautiful but you certainly are the shortest!" teases Choda, who has a reputation as a "turquoise bee" because he goes around pollinating so many "flowers." "Have you watched them going down the trail in their little black shoes dancing around every puddle?" says Choda, standing next to the fire holding a bowl of homebrew in one hand and doing an effeminate little hop. "They're afraid to step in puddles because they're so short they'll sink in and disappear!"
"Ha! Talk about being short!" laughs Kinley, addressing the room and holding her flowing nipple between the baby's lips. "The last girl whose window Choda crawled through in the middle of the night told me that his cock is so short it sank in and disappeared without even waking her up!"
From BHUTAN: Hidden Lands of Happiness, by John Wehrheim (Serindia 2011)