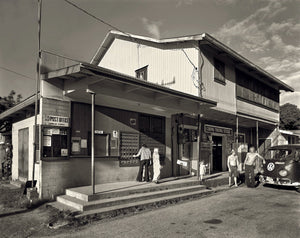 In 1906, Ching Young and his brother, immigrants from Chung San (Zhongshan), China, built this store and the rice mill next to it. In 1933 Mr. Ching died, leaving his widow, Dang Ha Ching from Hanapepe, to run the operations and raise their eight children through the worst of the depression. To support her family, Mrs. Ching had to sell her jewelry.
During World War Two, the rice market boomed, demand and prices spiked, and Mrs. Ching provided for and educated her children. However, by the '70s, taro had replaced rice, the sugar and pineapple plantations were going broke, and the North Shore population was shrinking. Unemployment forced many locals to leave the community—searching for work far from home. To generate income and traffic, Ching Young Store added the post office and rented the rice mill to a group of Taylor Camp hippies for an organic restaurant. In those days rent was cheap. The Ching Young Store started stocking granola.
On the mainland, the murder of Kennedy and King, Vietnam war protests, campus riots, and burning ghettos drove many disillusioned and disgusted youth to look for someplace better. Kauai's dying towns, abandoned plantation labor camps, cheap rent, and fruit for the picking, along with perfect surf and one of the most benign climate on Earth, made the North Shore a haven for surf nomads and hippie refugees—the unwitting shock troops of Kauai's coming economic and cultural invasion.