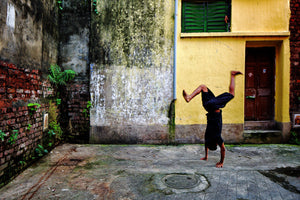 I was on a busy street in the bazaar when this kid came somersaulting, hand springing, and cartwheeling towards me. He struck a landing right in front of my tripod and asked if I would photograph him doing his routine. 
"It's too crowded here," I explained.
"I know a place not too much crowded," he offered.
We walked down a side street, then into a maze of lanes and came to a place with good light that opened into a wide paved section at a hard left then hard right turn. The place was being used as a neighborhood refuse dump complete with a sweeper's cart, broom and pan. The boy immediately began his routine, springing his way through the trash when I stopped him and said I wouldn't photograph unless he cleaned the place.  After the boy swept and shoveled all the trash into the sweepers cart and I hauled it out of the frame, I set my shutter on rapid burst and caught this moment.