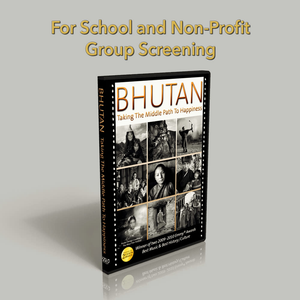 WINNER OF TWO 2009-2010 EMMY® AWARDS
This film takes a hard look at the last of the ancient Himalayan Buddhist Kingdoms, now an emerging democracy trying to balance the forces of the global market with its traditional culture. From cloistered monks to the urban club crowd, traditional farmers to hydroelectric engineers, this penetrating examination of Bhutan's development philosophy of "Gross National Happiness" reflects our common global need to adjust behavior and world view to account for responsible environmental practices and demonstrates that civilization's survival depends on our ability to live in harmony with the natural world.

Running time: 57 minutes. DVD: 65 minutes with a bonus feature of the Dalai Lama speaking on "Happiness."
** Section 110 (1) of the copyright law enables teachers to use (perform) such a video without a public performance license (which is normally required whenever a video is shown outside of the home). The conditions which must be satisfied are: 1) the use must take place in a non-profit educational institution, 2) the use must occur in a classroom or similar place devoted to instruction, 3) the use must be part of a regularly scheduled course (thus ruling out extra-curricular or recreational use), 4) the use must be exclusively by the instructor and the students in the classroom, in the course of face-to-face teaching activities.   Also for public and school libraries.