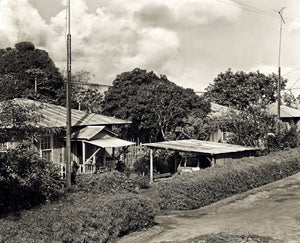 This grass-covered road in an area with over 60-inches of rainfall annually and poorly drained clay soils indicates the level of vehicular traffic in Kilauea Plantation's worker housing communities known as "camps." Even light traffic would have turned these byways into rutted axle deep quagmires during the winter's wet season. Walkable and self-contained, Hawaii's plantation communities had general stores, medical clinics, schools, community centers, and movie theaters. Field workers walked to the mill each morning, where they caught a ride to their field assignments.
Back then, Kauai had no stoplights, no traffic. So few private vehicles were on the highway that everyone knew who owned an oncoming car before they could actually see the driver and passengers. A new car spotted on the road was the talk of the town.
Note the TV antennas: Television first came to Kauai's North Shore in the mid-seventies and significantly impacted the community's habits and culture. Before TV, neighbors frequently visited in the evenings, dropping by unannounced to sit on the lanai, drink beer, play music, and "talk story." After TV, families became isolated within their community, and individuals isolated within their families as everyone stared at flickering screens.