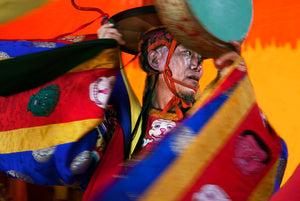 The Black Hat dance is performed to sanctify a location, subjugate negative energy, and enhance the positive. It is one of the few sacred dances performed without a mask. The black hat dancer represents a master of Tantra who has the spiritual power to subjugate demonic forces. Tantric Buddhism uses violent and terrifying methods out of ruthless compassion to tame unruly beings.
The tassels symbolize the long hair of tantric priests in contrast to the shaven monks. The terrifying outfit and movements of the black hat dancer represent the use of force and fear, albeit out of compassion, to help an evil power stop committing further evil. It does so through the practice of compassionate killing known as "liberation" as the consciousness of the victim is liberated while its ordinary personality is slain. The dance commemorates the 842 AD killing of the anti-Buddhist Bon King of Tibet, Langdarma, by the Buddhist monk Pelkyi Dorji.
The Black Hat dance is sometimes performed with a drum signifying skillful method and wisdom.